A lot of homeowners that we've worked with want a home with open-plan interiors. Imagine the living room, dining area, and the kitchen together in one place — but separated in some way. It is nice to keep these areas connected because these are often the centre of group activities in the house but design-wise, you need to establish a way to separate these. You don't want to build a wall and lose the beauty and function of an open-plan space. Here, we present better ways of dividing a room to keep it spacious:
Use transparent partitions
It is practical to use an open bookshelf like this. It might be a solid partition, but it doesn't obstruct your view of the adjacent area. The light and air flow seamlessly — even if this tall shelf stands from the floor and up the ceiling and there are objects displayed on the shelf.
Want something cute and lower? Opt for cubbies or cube storage like this to put a temporary border on the floor. It's like a mid-wall with an open space above it.
Transparent glass french doors also do the trick, as you can see in this small, open-plan space apartment by interior designer and blogger @myleitmotiv. A divider like this clearly sets where the boundaries are.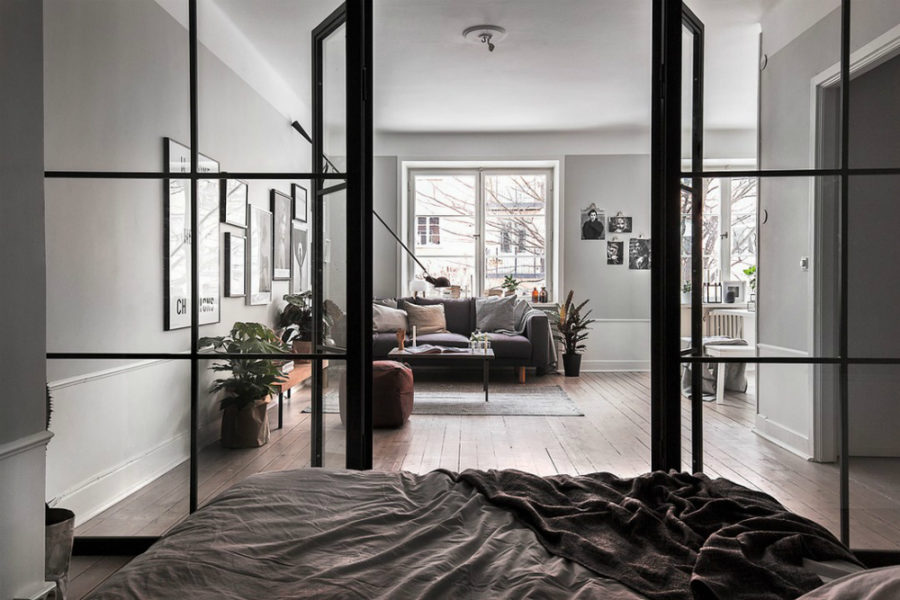 Build two different levels
Have you ever heard of sunken areas or conversation pits? Here's a cozy example from Amber Flooring: 
The difference in the floor levels visually separate spaces without limiting the view. In the living room above, the depressed area is deep and requires two-step stairs to connect the two territories.
Build two different ceiling heights
When building a conversation pit is not a viable option, create a difference in ceiling height and material. Take a look at this open-plan space. The high ceilings make the living room spacious, unique, and comfortable. The ceiling in the kitchen is much lower, giving the impression of a new area.
Lay a rug on the living room
In need of a cost-effective way of dividing a room? Lay a rug on the floor and use it to separate the living room or dining area from the adjacent areas.
Install two flooring materials
For a more permanent design solution, consider installing two different flooring materials. Let the floors set the boundaries between spaces. Make sure that the floors you use are appropriate to the room's functions.