Man-made buildings often have a net-negative impact on the planet and all living creatures. To reduce this, we all want to use green building materials. Here is a list of sustainable and eco-friendly green building materials that you can use on your next construction project:
Straw bales
Straw bale is made from dried stalks and leaves of many cereal crops, minus the seeds. For something that comes from trash, it is an undeniably strong building material. 
It is one of the oldest material used to build homes in the world and it is still being used to build rural houses in Australia today. 
Credits: smarterhomes.org.nz
One thing that we like about straw bale is that it has excellent thermal insulation properties. It is a very good sound insulator as well.
Grasscrete
Grasscrete is an eco-friendly alternative to concrete outdoor surfaces. Use it in your parking area, walkway, sidewalk, and driveway. The material is permeable and allows stormwater to pass through without erosion. 
We like this because healthy grass can grow between the Grasscrete blocks. 
Credits: Colorado Hardscapes
Rammed earth
Rammed earth is an ancient way of building wherein builders tamped down and compressed gravel, sand, silt, and a small amount of clay into a formwork. For a more stable construction, builders add a small amount of cement or use rebar or bamboo. Most of the energy used in the construction of rammed earth is in quarrying the raw material and transporting it to the site. We can lessen the energy consumed by patronising local quarries than importing from farther locations.
Bamboo
Bamboo is one of the most sustainably-sourced plants in the world. It grows quickly and can be harvested without killing the plant. As a building material, bamboo is strong, versatile, and light-weight. It is a great substitute for timber and an excellent option to use as an eco-friendly green building material for your projects.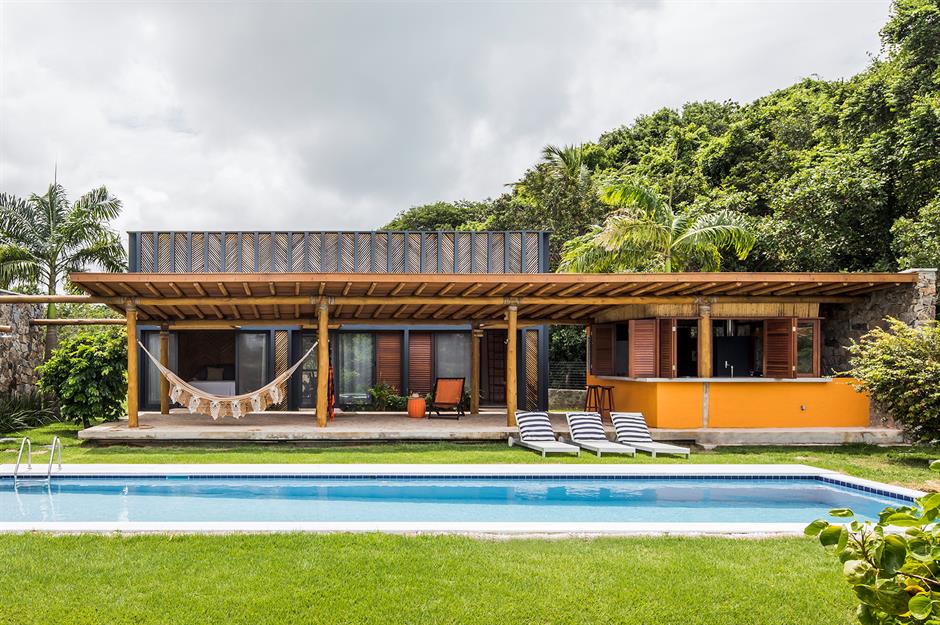 Credits: LovePROPERTY
Wood
Timber is the most common building material on earth. It is easy to work with, flexible, and readily available. With the latest changes in Australia's building codes, architects can now explore the use of timber for more innovative, environmentally advantaged, and sustainable structures.
Hempcrete
Another unique innovation in the construction industry is the Hempcrete, a concrete-like material from the woody, fibrous hemp plant. It's made through combining hemp aggregate, water and lime-based binders. Lime bounds all the fibres together in the shape of a block. Similar to bamboo, hemp plants are fast growing and renewable. Structures made from Hempcrete can last long for its fire and termite resistant. The material also a natural insulator, making the entire structure thermally comfortable.
Image credit: Designing Building Wiki
Recycled plastic
Researchers found a way to make building materials from waste plastic. Plastic materials are grounded and machine-compressed to the size of a concrete block. Through this, the construction industry will help reduce the number of plastics that clump in our landfills. Since plastic doesn't need a binding agent or adhesive to stick together, it's carbon footprint is less compared to concrete.
Mycelium
Scientists who got a hold of the Mycelium mushroom think of it as a marvel of nature. This kind of mushroom grows despite the lack or absence of light! This amazing characteristic of fungi leads to the discovery of insulation which grows itself in the dark. At the same time, it has a natural way of killing insects such as fire ants and termites.
Ferrock
Ferrock is a promising substitute for concrete. It's made up of steel dust and other discards of processes in the steel industry. It has a great bending force which can make structures resistant to earthquake. The best part? Researchers found out that this material absorbs and traps the carbon dioxide. It turns out, CO2 plays a part in its drying and hardening process.
Credits: BuildAbroad
Ashcrete
Ashcrete is another concrete alternative. Australian ashcrete is made from quality fly ash, a fine, grey powder coming from coal power plants. It reacts with lime to create a cement-like material. Commonly known as supplementary concrete material, it's available in premixed, precast, road pavements, road bases, and concrete masonry.
Timbercrete
Timbercrete is the outcome when we mix sawdust and concrete together. It is lighter than regular concrete, hence it has fewer transportation emissions. It also makes use of sawdust which we considered as 'construction waste' before. Nowadays, you can find timbercrete bricks, pavers, and cladding. All are fire resistant, impervious to termites and decay, bulletproof and used as an eco-friendly green building material.
Credits: BuildAbroad
The materials on this list have a low environmental impact on all stages of its life — from the manufacturing to operation until disposal or reuse. Most of these are manufactured in the country and are available via local distributors.